GIGASWORD IS NOW ON KICKSTARTER!
Support here: https://www.kickstarter.com/projects/726600008/gigasword-an-action-puzzle-metroidvania


GigaSword is an action-puzzle metroidvania in which you wield a huge sword that weighs you down. By sticking the sword in the ground, you're able to jump higher, swim, crawl through tight spaces, and more – but there's a catch: you become unable to attack. Many of the puzzles revolve around sticking the sword into interactive objects that transport it around the room to areas you wouldn't have been able to reach while holding it. With cataclysm on the horizon, it's up to you to ascend the ancient tower and recover the God Crystal, Gnosis.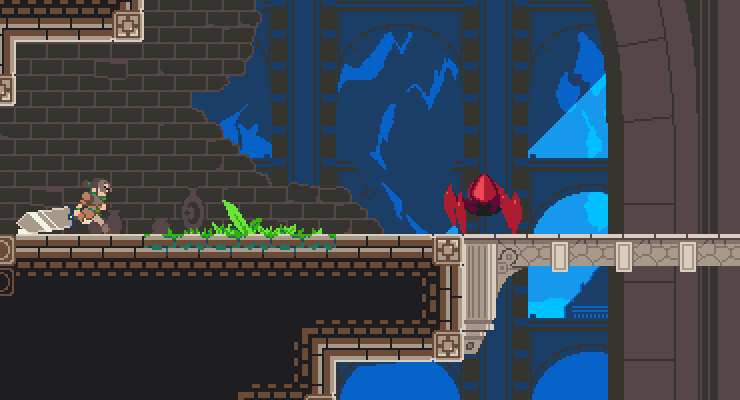 Wield the GigaSword!
Wield the sacred weapon of the Nocturne! This sword was meant for an 8 foot tall owl-man, but when has that ever stopped anyone? The GigaSword may weigh you down, but it is also your greatest tool in navigating the tower. Use it to unlock doors, weigh down pressure plates, push blocks, and more!


Slay Horrific Demons
Hack and slash your way through the many floors of the Nestrium as you encounter demonic abominations from a realm better left unvisited!


Mind-bending puzzles
A talent for combat won't be enough to save the world. You'll have to use every ounce of your cunning to solve puzzles inspired by the dungeons of The Legend of Zelda series.


Discover New Abilities
The Nestrium is quite unwelcoming to newcomers, with it's far drops, nefarious traps, and hidden rooms. Luckily, as you progress, you'll uncover new ways to move around the tower, getting to areas previously inaccessible, a-la classic metroidvanias.


A Tale of Courage
Witness the story of Ezra, a young orphan who finds himself in the midst of an otherworldly cataclysm. GigaSword aims to focus on engaging storytelling and memorable characters through the use of in-game dialogue and animated cutscenes.

系统需求
最低配置:
操作系统: Windows 7
处理器: Intel i5
内存: 128 MB RAM
steam下载地址:https://store.steampowered.com/app/1885930/GigaSword/