Gladiators, Grenades and Gravity Boots!
Orbitals is a bullet-brawler party game where players battle in arenas filled with monsters, opponents, and friends. Control gravity to fight on any surface while mastering a variety of traversal mechanics, weapon types and devastating special abilities to dominate in the arena.
Single-player or Co-op story mode. Play with and against friends in online or local multiplayer party-mode mayhem.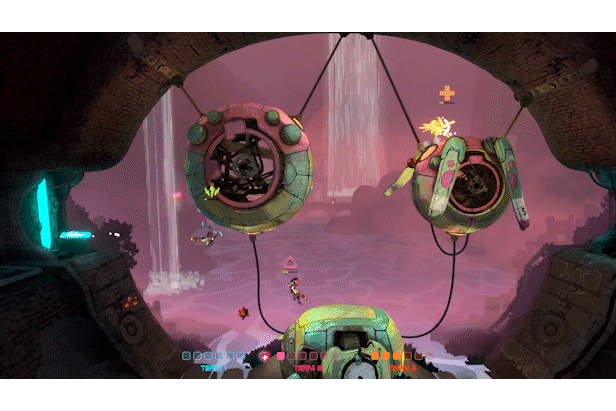 We are excited to announce our first-ever public demo of Orbitals!
What it includes: Tutorial, Battle Mode (multiplayer), Online Play via Steam Remote Play Together, EXCLUSIVE Discord Role
What we're still working on: Online play (dedicated servers and peer-to-peer), Online Matchmaking, Story Mode, CPU Opponents, More Levels, Monsters, Weapons, and Ultimate Abilities!
Stay tuned, we are actively working on all these things and we will be publishing updated demos periodically!
Manipulate your own gravity to run on ceilings and walls, orbit large objects, and slingshot yourself around the level. Be a flippin' space ninja!

Choose from five distinct character classes, each with their own weapon specializations and unique ultimate ability.
Improve your character between matches by purchasing upgrades from your randomly-generated upgrade pool.
Arena matches are ferocious and require both combat and point collection in order to win. Once you have filled up your point meter, you will activate your Eliminator power-up, dramatically increasing your lethality and enabling you to permanently eliminate the other players when you K.O. them!

系统需求
最低配置:
操作系统: Windows 10
处理器: 2.5 GHz Dual Core
内存: 4 GB RAM
显卡: NVidia GeForce 760, AMD Radeon R7
DirectX 版本: 11
网络: 宽带互联网连接
存储空间: 需要 2 GB 可用空间
推荐配置:
操作系统: Windows 10
处理器: 3.0+ Ghz Quad Core
内存: 8 GB RAM
显卡: NVidia GeForce GTX 1060, AMD Radeon
DirectX 版本: 11
网络: 宽带互联网连接
存储空间: 需要 2 GB 可用空间
steam下载地址:https://store.steampowered.com/app/1102110/Orbitals/