"Soar over Purgatory and reap all the foes."
You play as Gretel, a reaper in this purgatory-like afterlife. After being exiled from her sanctuary for 200 years, she is freed from her sarcophagus by a wandering soul named Archibald. Seeking purpose in this afterlife she decides to guide Archibald back to the sanctuary she was long exiled from. The journey won't be easy however as the path is fraught with all manner of grotesque demons starving for souls.
Main Contents
Gigantic stages that test your skill in platforming, navigation, and combat.
Five difficulty options that change the stage structure and enemy encounters.
A varied and volatile enemy roster and unique bosses.
Fully unlocked, no-upgrade-required melee combat options. Learn at your own pace and master them all.
Unlockable ranged skill options that widen your crowd-controlling methods.
A necklace system that can provide different playstyles.
COMPLETELY FREE Act 1. The demo is available for all people who want to try it out. Consider that as a vertical slice of the complete product and a gateway to the bigger challenges.
Gameplay Features
Destroy the enemies with an arsenal of ranged skills that can be chained with each other.
Juggle, pull and pogo the enemies to simultaneously attack and position yourself.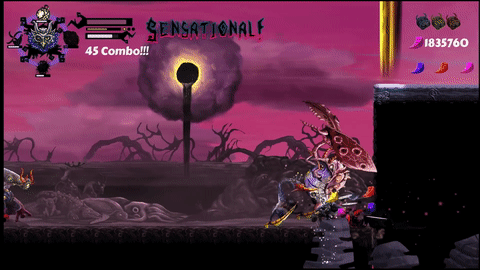 Throw healing bombs to turn them into living health potion containers. Hit them to regain health and keep fighting.

Utilize the environmental hazards to demolish the enemy groups efficiently.

Slay the enemies swiftly, gain style points, and get the sweet Triple S rank.

成人内容描述
开发者对内容描述如下:

Even though it is shown in a cartoonish manner, the game contains grotesque imageries and implications about horrid deaths. Viewer discretion is advised.
系统需求
最低配置:
需要 64 位处理器和操作系统
操作系统: Window 10
处理器: Intel(R) Core(TM) i7-8750H CPU @ 2.20GHz 2.20 GHz
内存: 8 GB RAM
显卡: NVIDIA GeForce GTX 1050 Ti
DirectX 版本: 10
存储空间: 需要 1 GB 可用空间
推荐配置:
需要 64 位处理器和操作系统
steam下载地址:https://store.steampowered.com/app/2109060/Magenta_Horizon/